Safe Computing
Avoid Tax Season Scams
Tax scams come in phishing emails, phone calls, and even text messages or social media posts. The IRS will not contact you about payments without first mailing you a tax bill, and will not demand payment to a source other than the U.S. Treasury. IRS calls will inform you of the rights and appeals processes for taxpayers.
Some specific things to watch out for include:
Demands for immediate payment, especially in forms like prepaid gift cards, wire transfer, or cryptocurrency.
High-pressure tactics and threats to send local authorities after you or suspend driver and business licenses.
Calls asking you to provide personal and financial information.
Scammers frequently impersonate the IRS, and sometimes even U-M officials, in their email or calls. When in doubt, call the IRS to confirm your tax status.
Learn more at: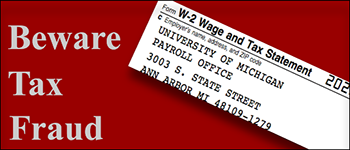 The Feeling of Being Watched Event
The latest event in the Dissonance Event Series is being hosted by ITS Information Assurance and the Wallace House, The Feeling of Being Watched.
Algerian-American investigative journalist and filmmaker, Assia Boundaoui, grew up outside of Chicago, in an Arab-American neighborhood where most people believed they had been under surveillance for over a decade. In search of the truth, Assia begins an investigation that eventually produces tens of thousands of FBI documents proving her hometown was indeed the subject of one of the most extensive counterterrorism investigations conducted in the United States pre-9/11.
Join the U-M community for a virtual screening of The Feeling of Being Watched from March 28, 2022, through April 7, 2022. On Thursday, Apr 7, 2022 at 4 p.m., you can take part in a conversation with the director and Wallace House fellow herself, Assia Boundaoui.